About Us

STERLING METAL INC, an ISO 9001:2015 and Dutch Council Accredited company has earned its name as a 100% EXPORT ORIENTED UNIT is a business of very qualified administration and staff backing by 32 years experience to meet the world's necessity of Ferrous and Non-Ferrous exactness parts and components (essential Brass Based), to suite the determinations of diverse worldwide principles.

We are a sister concern Sterling Group of Companies who are already a big name in the industry as a exporter, manufacturer, supplier and trading company, engaging in various verticals of the industry, offering brass products and components like Brass Fittings, Brass Pipe Fittings, pressing, turning, forging, casting and others.

Our dedication to quality, consistency and unwavering quality made us one of the top Exporters from India. Our Brand Name "STERLING" itself considered as characteristic of value by all our Nationals and International clients. We fulfilled our clients prerequisite by giving them quality material, as well as fulfilled them by opportune conveyances and administrations. Subsequently, our dedication to quality and opportune conveyances made us pioneers in national and also in international business sector for more than four decades.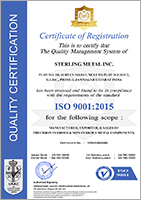 Read More